We, at NoMorePE.com, recently conducted a research study to understand how premature ejaculation impacts the relationship of the men who are suffering from it. The new research revealed some disturbing and eye-opening things that men usually go through.
Before we move ahead and discuss the findings of the study, let's quickly overview what is premature ejaculation so you can better understand our findings.
What is Premature Ejaculation?
Premature ejaculation, also known as early ejaculation, rapid ejaculation, and premature climax, is a condition when a man ejaculates earlier than he wants to during sexual intercourse. The average duration of sex is 7.2 minutes but 94% of men suffering from premature ejaculation orgasm in under 60 seconds.
And this is an issue.
When you reach climax and ejaculate too early, it has several implications on your relationship.
Why?
Because an average woman orgasms in 20 minutes and this is way more than a mere minute. It means men suffering from premature ejaculation mostly can't satisfy their sexual partners in bed.
But there is more to add to the story…
Premature Ejaculation Study
Leaving your partner unsatisfied in bed consistently is the core outcome of premature ejaculation but it is just the basics. This sexual disorder leads to several other complicated challenges that we wanted to find out.
We surveyed 327 men who were suffering from premature ejaculation to find out how this disorder impacts their relationship. And here is what we found:
1. Men Don't Want to Share Their Problem
The majority of men who participated in the survey said that they aren't comfortable sharing their premature ejaculation condition with their sex partners. A whopping 64% of men reported that sharing it with their sex partners is something they always or mostly avoid: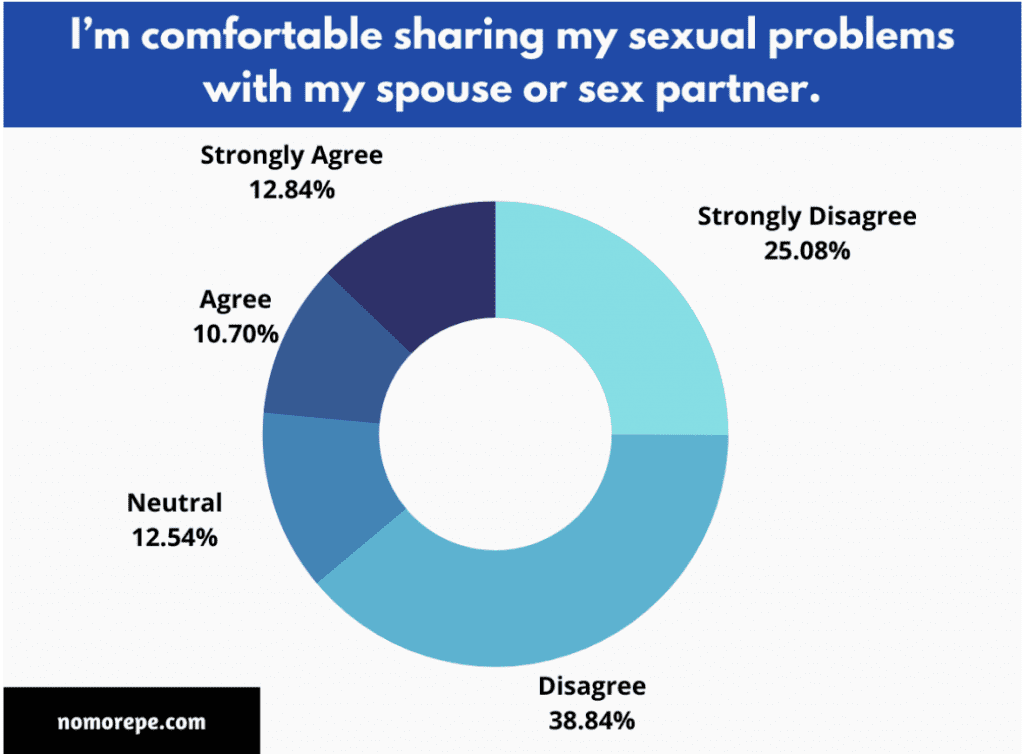 As much a 35% of men said that they hide (either intentionally or unintentionally) their early ejaculation condition from their sex partners.
This means the majority of these men eventually hide their medical condition from their spouses. This forces them to use desensitizing products to make sure they don't ejaculate quickly (since they are hiding their condition and to keep it hidden, they need to make sure they don't ejaculate quickly).
When you hide something in a relationship, it gets complicated. This is the first stage towards an unhealthy relationship where you end up cheating or fooling your partner.
2. They Don't Avoid Sexual Relationships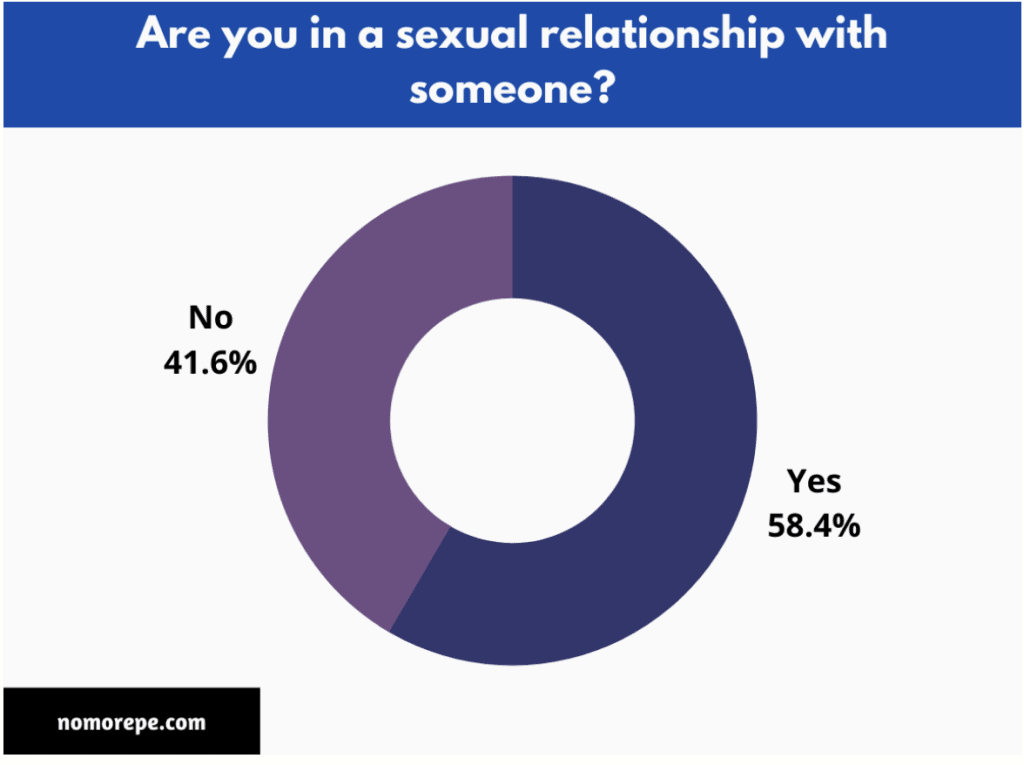 Men who are suffering from premature ejaculation don't avoid sexual relationships. The majority (58%) of men in the survey said that they're in a sexual relationship with someone despite their medical condition.
This implies that sexual disorders don't stop men from having sexual relationships. One reason why men continue to have relationships is that PE is easily treatable (unless it is primary premature ejaculation). For example, using desensitizing products or supplements can help you increase ejaculation time.
3. Relationship Issues are Common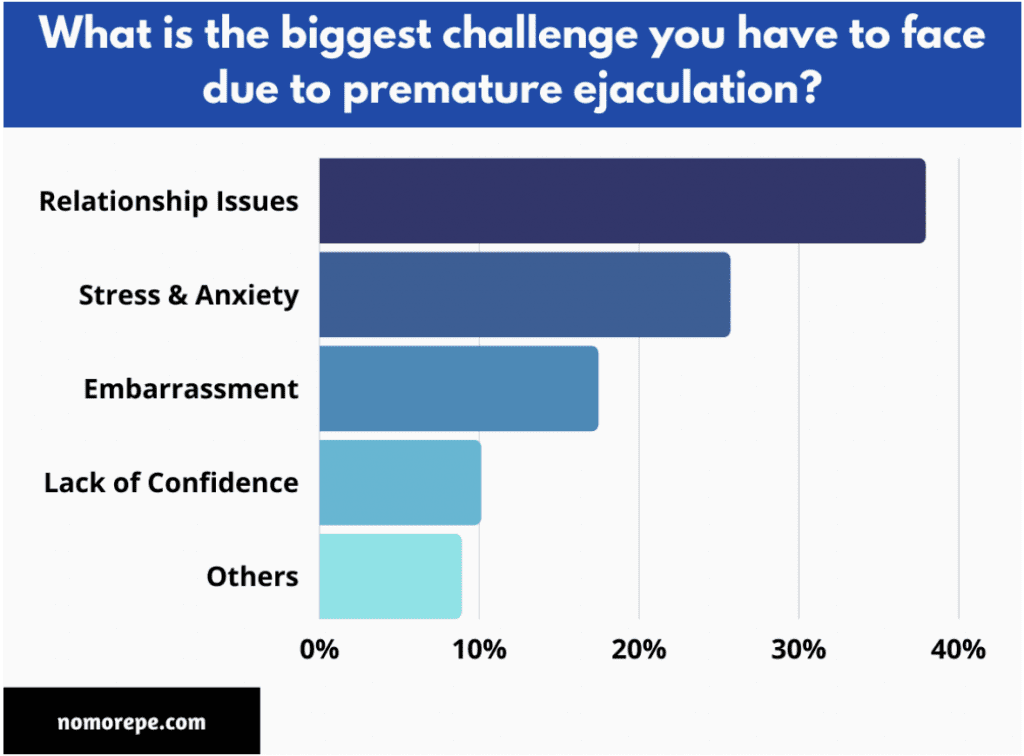 We asked survey participants to list the top challenge they face due to rapid ejaculation. Relationship issues were the most common challenge that was picked by 38% of men.
What kind of relationship issues precisely?
We aren't sure as this wasn't the scope of our study. But generally speaking, it could be anything ranging from regular fights to divorce. You never know.
After all, sex is a primary need.
4. Inability to Enjoy Sex
One of the major problems that could lead to "relationship issues" is the inability to have sexual intercourse. A massive 91% of men reported that they don't enjoy sexual intercourse and 79% of men reported that their sexual partners don't enjoy sex due to early climax: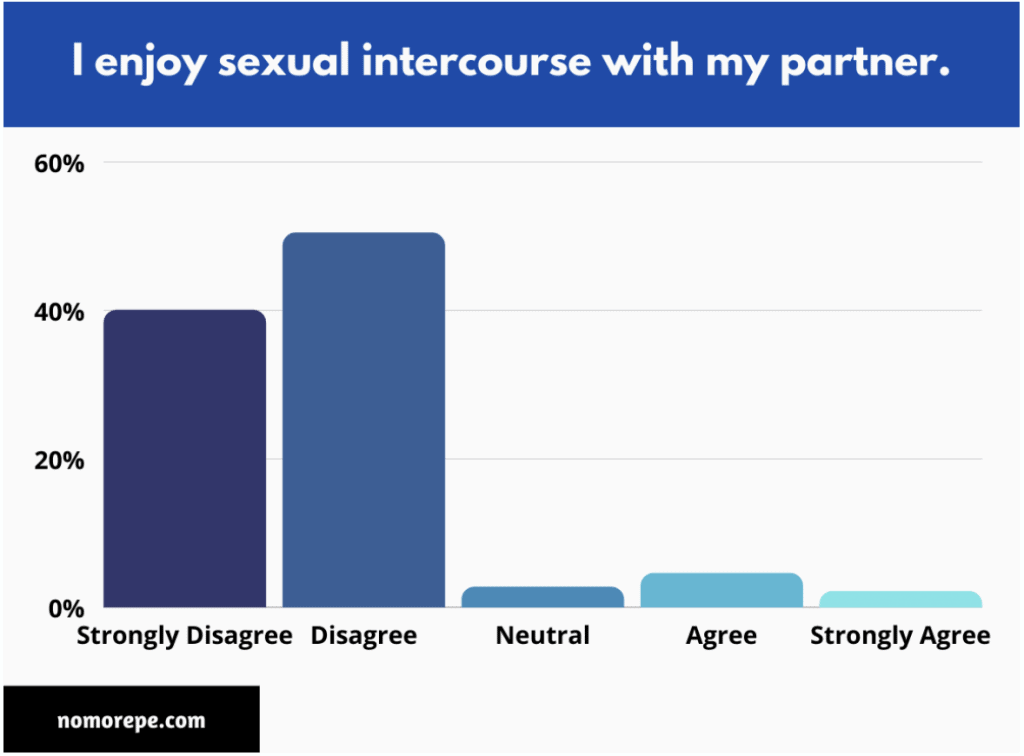 This is where it gets complicated.
If you don't enjoy sex, what's the point of being in a relationship?
Of course, you can have a relationship without sex but you can't have a sexual relationship without sex. So eventually, you end up being alone.
Early orgasm is a condition where you still have the desire to have sex, so living alone means you are somehow avoiding or trying to overcome your natural desire to have intercourse. This leads to several issues such as:
Anxiety and stress
Anger
Constant distress.
Stress further leads to several life challenges and medical problems such as poor work performance, financial issues, social pressure, insomnia, and more. The list can go on and on.
How to Cure PE and Save Your Relationship?
Curing early climax is possible. And if you think you are suffering from it, you need to treat it as soon as possible. Even if you suffer from premature climax occasionally (most men do), you need to take care of it.
How?
Consult a medical expert. A sexologist is the right person to get in touch with. Your sexologist will use a mix of treatment methods to help you last longer in bed. These include prescription pills, counseling, exercise, delay condoms, and others.
Besides, you need to share your condition with your spouse. This is a must. Because hiding it won't help much as it will eventually lead to stress (which is positively associated with premature ejaculation). If you want to delay ejaculation naturally, make sure you are stress-free.
The problem isn't premature ejaculation itself. Rather, the problem isn't treating it as a real medical issue and not getting proper medical care. 
If you want to save your relationship, get rid of premature ejaculation. It is ruining your relationship at the backend without you even knowing it.