The fit-for-everyday phantom watch
As a befriended jeweller once told me, a watch is the only piece of jewellery worn by generally all men all over the world. Now the guy wasn't exactly impartial but, well, there's something to what he said.
There's no denying the extra oomph a nice watch can give your look, and finding a good one definitely doesn't have to break the bank.
It set us on the lookout for an affordable skeleton watch and we found it in the Seizmont Seymour Phantom. Thankfully, we even had the chance to have a good irl look at it.
Phantom of the what?
For those unfamiliar with the term, a phantom watch is a specific type of skeleton watch.
In turn, a skeleton watch is a watch where you can see the actual hardware, giving it a modern, techy, even steampunky look.
The way phantom watches are differentiated from other skeleton watches is by giving them a transparent backplate, letting you not only see the watch's hardware, but actually letting you see through the entire thing, not unlike those pesky beings making Ghostbusters the great classic we all know and love.
This particular Phantom
The phantom combines the best of two different worlds, Scandinavian design with Japanese quartz, resulting in a reliable and classy minimalistic watch.
It's available in the colours gold, silver, carbon black or a combination of any of those.
Material, specs & dimensions
On to the geek stuff:
The watch is built with a stainless steel backside and strap combined with a zinc alloy case and has the following specs & dimensions:
Strap width: 7/8″ (22 mm)
Case diameter: 1 5/8″ (42 mm)
Case thickness: 7/16″ (11 mm)
Max. wrist size: 8 1/4″ (21 cm)
Min. wrist size: 6 5/16″ (16 cm)
Water resistance: 3 ATM
Looks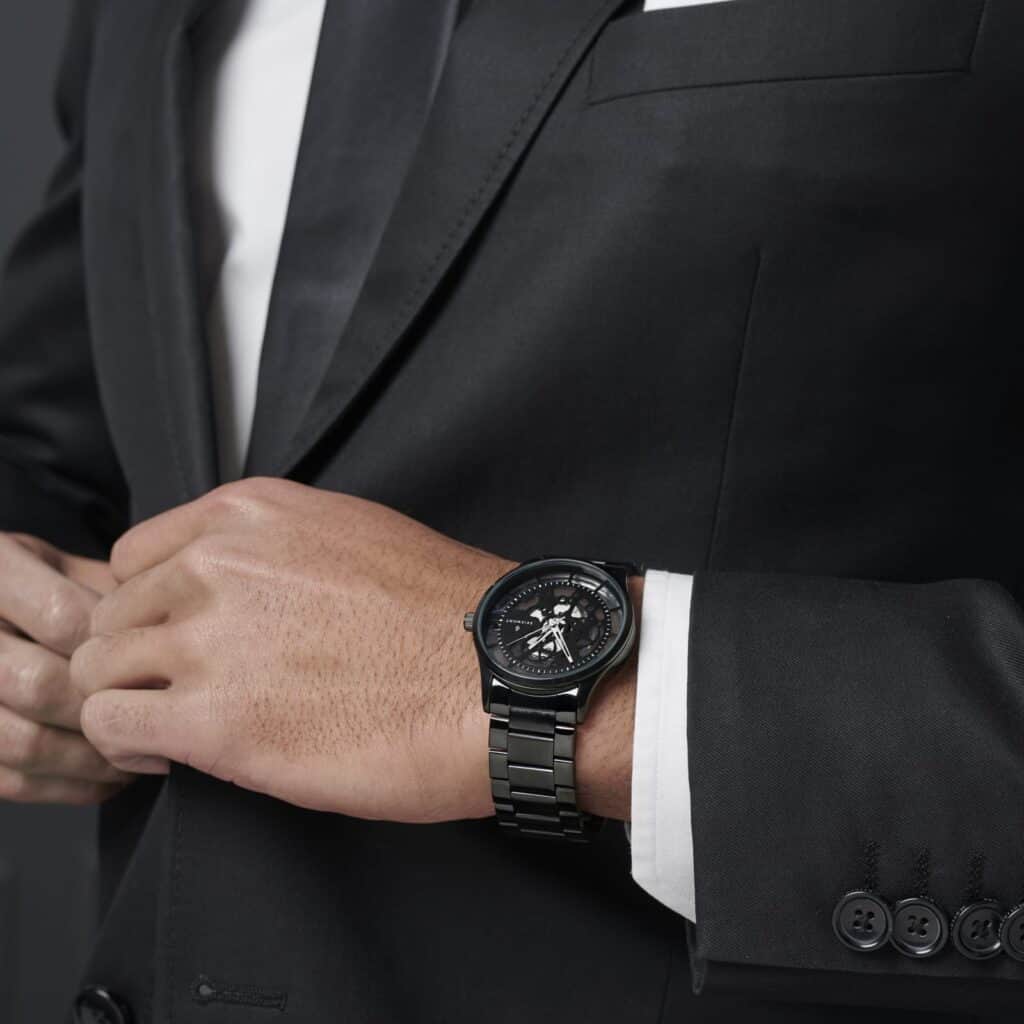 Beauty is in the eye of the beholder but we really love the minimalistic, naked look of skeleton watches and this one doesn't disappoint us.
The watch comes in 5 different variants. Get whichever one you like but our favourite is the full black Seymour Phantom, which looks equally great with any outfit, whether you're wearing it with a nice modern suit or plain t-shirt & jeans.
Impression
The phantom doesn't feel too heavy (phantoms are weightless, right?) but still sturdy and we think it's a great fit-for-everyday watch in a very appealing price range.
Conclusion
We like watches, we really like skeleton watches and we love phantom watches. This one makes the recommendation list. MensWorldHQ approved!
The Seymour Phantom watch is available at Trendhim.com for $99, €79 or £69.