By Catherine Bedford, Dashel
You can see it wherever you go – or simply when looking out of your window – cycling has enjoyed a massive resurgence and become more popular than ever since the beginning of lockdown. People are dusting off old bikes to enjoy the outdoors and now, with more people returning to work, increasing numbers of people are planning to commute by bike. This is great to avoid using public transport, it spares using the car – saving both money and pollution – and it's also a great way to get exercise on a regular basis.
Not a short-term fad
I believe this new-found love of cycling will endure. Once people realise the benefits of cycling, they will be happy to carry on. For a start, if you're cycling to work, you're getting your daily exercise in the time when you would previously have been sat on a bus or a train. This, in turn, saves you time going to the gym in the evening, freeing up time for you to spend with your loved ones.
Plus, people are happier in their cities, towns and rural routes, when cycling. As they move more slowly through their commute; with their eyes concentrating on the route and not a device or newspaper; they can learn more about the local area, spy local shops and cafes that they might like to visit or find a green spot that they might like to go to with family at the weekend. You can also actually see seasonal changes, appreciate the beauty of nature and get some good old-fashioned fresh air, all of which are great for your mental health.
FINDING THE RIGHT ROUTE FOR YOU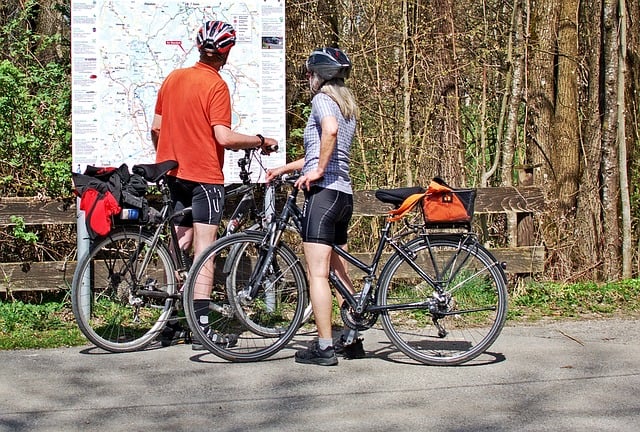 If you have recently taken up cycling, have moved to, or are holidaying in, a new area or just want to expand your repertoire of rides, what are the best ways to find a new cycle route?
To start with, if you are a novice cyclist, whether you are cycling to work or for pleasure, consider sensible routes when starting out. You do not want to begin your new pastime weaving in and out of inner-city traffic. Not only is it dangerous to do so without experience, you are highly likely to put yourself off before you start.
Routes for the techies
For newbie and experienced cyclists looking to find new routes, there are some great websites out there. Sustrans enables you to search for a route based on location, distance and whether you would prefer to cycle by road, off-road, or a combination of both. If you are London-based, TfL gives advice on many things if you're cycling in London, including routes. Then there is We are Cycling (https://www.cyclinguk.org) which has a quick way to find a route in your area and even gives detailed directions for you to follow.
Also using technology as your helper, as with everything else, there is – of course – an app for that! Cycle Streets allows you to plan a route from anywhere in the UK, with choices of route modes to suit a range of cyclists. It also has a live map so you can track your journey. Another option is Map My Ride; an app that allows friends to share great new cycle routes that they have discovered with one another. Komoot is another popular app for planning routes. I suggest you have a good look about at these and other apps and see which one works best for your needs.
Something more traditional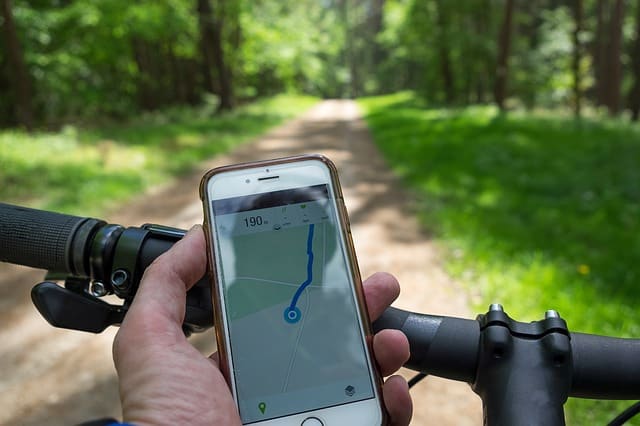 If you're not so techy, you can, of course stick with a good, old-fashioned Ordnance Survey map or get some information from the local tourist board – you don't have to be on holiday, you can ask them about the area in which you live too.
All that said, personally, I like to ask people. Sometimes I ask friends for good routes that they have done, other times I will chat to other cyclists while I'm out on a ride and see if they know of any good routes nearby. Also, if I'm out of inspiration, I have a phone holder on my handlebars and I fall back on Google maps to guide me.
Make your route suit your needs
What I would say is that from old-fashioned maps to ultra-techy apps, you should really consider exactly what you want from your ride before you plan.
Consider whether you are looking to explore the city without braving the roads. Similarly, if you are riding with small children the chances are you want routes that are completely off road or where the roads are very safe and routes that are not too long. You'll probably want to see if there are places to stop for refreshments suitable for children.
If you are riding for fitness and to reach fitness goals, such as times or distances, do you want to push yourself with a challenging route, perhaps lots of hills, or do you want a flat, straightforward route that allows you maximum speed? Also, consider the capabilities of your bike. If you're considering going off road and trying some more challenging terrains, you need to know your bike is the right kind (such as a mountain bike or a hybrid). If you have a road bike, you will need to ensure that any off-road routes you undertake are paved and right for your bike.
STAY SAFE
Once you have decided on your route, please ensure you will be safe. This also does not need to cost the earth but do make sure you have the essentials. Starting at the top, helmets are not actually legally required but I do feel it's important because, in the unfortunate event of an accident, it will protect you!
Visibility is also key. You must have lights on your bike and, if you're likely to be riding in traffic, consider one you can wear on your (stylish) helmet too to make you even more visible. Even if you're not planning on riding after dark, it's wise to carry something reflective with you at all times.
Gloves and cycling glasses are also worth considering to aid towards a safe ride, whatever your route.
When you have chosen your route, donned appropriate safety gear and stashed away your water bottle, there's only one more thing to do – enjoy your ride!

Web: https://www.dashel.co.uk
Instagram: dashelcyclehelmets
Twitter: @dashelcyclehelmets
Facebook: facebook.com/dashelhelmets
Pinterest: dashel cycle helmets
LinkedIn: https://uk.linkedin.com/in/catherine-bedford-b55a883