Macbook is Armbook
November 2020 saw the release of the first Macbook Air powered by Apple's very own M1 system-on-chip, ditching Intel's x86 architecture after almost 2 succesful decades. Apple used their knowledge of the ARM they acquired while designing ARM soc's for their iPhones and iPads and built their very own laptop soc and it shocked the world, giving the platform the revolution it was so much in need for.
Apple has shown us the advantage of the ARM architecture. Small, energy efficient and now finally, powerful. Combining a powerful soc with long battery life (up to 18 hours) and a portable form factor, Apple has put us in a weird spot where we actually have to praise a premium brand for providing the best value for money.
Rise of the Armbook
But better yet, they (re-)introduced the power of the ARM architecture to the world. Love Apple or hate them, they do know how to innovate and now an entire market is opening up of powerful yet energy efficient notebooks and it's up to others to try and capitalize on it, giving rise to tha Armbook.
Not everybody wants a Macbook, though, whatever the reason may be, maybe they want to set up their own cloud without Big Tech. Maybe they're looking for something low budget or want to run a different OS.
So since it's been 2 years, let's see what the open market has to offer us when it comes to armbooks.
Pinebook Pro
This one's actually been around for a while, even before the Macbook and it's an interesting option. The Pinebook Pro is built by the Pine64 foundation which started off building single board computers similar to Raspberry Pi but eventually designed their own smartphone, tablet, smartwatch and notebook. All on the same ARM architecture.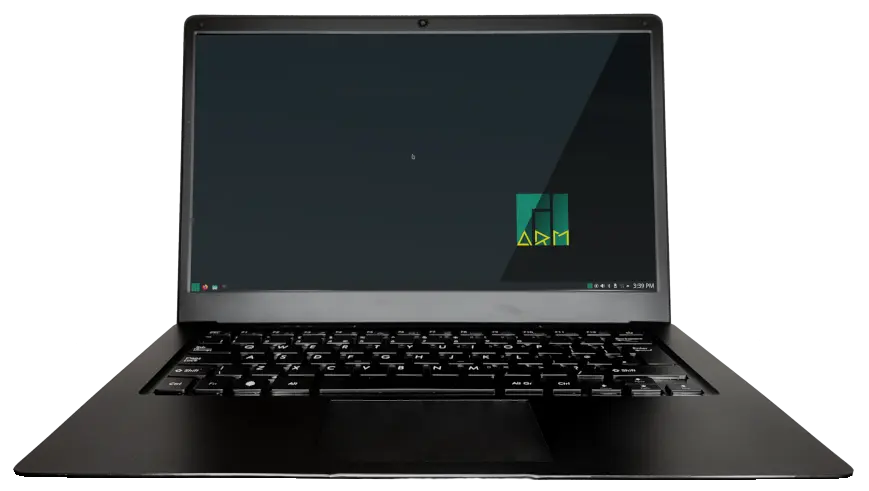 While not as powerful as the Macbook, the Pinebook Pro is enough for daily usage and very budget friendly with its retail price of $299.99 and community price of $219.99.
Its current iteration is powerd by a hexa core Rockchip RK3399 and 4GB RAM, the full hd screen has a diagonal of 14 inch and the Pinebook also 64 GB built-in storage.
The device was intended as a Chromebook alternative for Linux users, since many of them bought Chromebooks to flash Linux onto them.
If you like the safety of long warranty, you might be disappointed because Pine64 only provides a warranty of 30 days.
MNT Reform
If you're looking for a more high-end alternative, the MNT Reform might be an option.
The Reform is built in Germany and completely open source, including hardware.
If you like building stuff, you could get the cheapest version for €1099 which get you a DIY kit to assemble yourself. If you're born with 2 left hands you can also get a pre-assembled version which costs €1299.
Specs are okay but nothing fancy, their CPU is an odd one, a rare pentacore (5 cores) with 4GB RAM. The CPU+RAM sits on a replaceable SO-DIMM module so no need to throw the entire device away when the CPU is dead.
The form factor is more compact than the Pinebook (12.5″) ,it also has a full HD screen and an ethernet connection, which is rather rare in this small format.
Another thing we like is the replaceable battery, which consists of 8 separate 18650 battery cells. Having everything be replaceable does come at a cost, though, apart from the financial one which is that this armbook is rather on the heavy side weighing in at 1.9 kg or 4.2 lbs.
If you're someone who likes to fix everything yourself and doesn't need peak performance, this might actually be a good option. We also think the open nature of the device makes it a great choice for setting up your own cloud without Big Tech. Very eco & prepper friendly!
Microsoft Surface Pro X
We like community build devices but sometimes it's better to go to the bigger brands. One builder with a MacBook (or perhaps iPad Pro) killer is Microsoft.
Microsoft actually jumped on the ARM wagon already 10 years ago when they release the Surface RT. Their jump might have been prematurely back then because the reviews were horrible. Slow, overprice, no native ARM software and on top of that horrible x86 emulation made Microsoft put the RT story back in the fridge.
But times have changed and the ARM architecture became a lot more powerful in the last decade and Microsoft has redeemed their bad ARM rep by releasing the first Surface Pro X in 2020.
With a price tag of $999, 4K screen, thin bezels, built-in LTE, stylus and a very light weight (1.7 lbs) Microsoft has released a great PRO tablet aimed to directly compete with the iPad Pro but still has a complete Windows version on it so with a keyboard this could be the MacBook alternative you want, especially if you'd like to run Windows instead of Macos or Linux.
But deep down it's still a tablet though, so there's compromises to be made. I'm sure there's a market for so-called Pro Tablets but personally I'm not it. I'll always see it as a consumer device, not a producer device. I wonder what you think, let us know in the comments.
Samsung Galaxy Book Go
Next is the Samsung Galaxy Book Go which is one of few Windows armbooks we could find. Samsung claims the battery will last up to 18 hours on one charge just like the MacBook Air, it reminds us again why we fell in love with this architecture.
The Galaxy Book Go has a 14 inch screen full HD screen, Snapdragon 7c Processor, 8 GB RAM, 128 GB storage and comes at a very affordable price. We think it's a great budget alternative to both the MacBook Air or Microsoft Surface Pro.
Chromebook after all?
Honestly, the market for armbooks is still disappointing, given the progress we've made in the last years. I have a personal theory, manufacturers like to close down their ecosystems and push you onto their shops and clouds which is why they're not releasing any notebooks you can just install any OS you want on, perhaps there's simply no demand for it either. We do expect this to worsen in the future. Gone are the tinkering days.
Oddly, it looks like chromebooks are still the best option for an armbook and they give you the option to either just leave Chrome OS on it (for non tech-savvy users) or flash Linux onto them (for the 1337 crowd).
The only reasons to get one would be if you want a premium armbook like the MacBook Air/Pro or Microsoft Surface Pro or care about open-source easy-replaceable hardware like the MNT Reform or Pinebook Pro.
We shopped around for some great ARM chromebooks and came up with a few great options.
ASUS Chromebook Detachable CM3
The first option is the detachable ASUS chromebook which is notebook/tablet hybrid which, as the name implies, has a detachable keyboard.
It's a 10.5 inch device powered by an 8-core MediaTek 8183 soc with 4GB RAM and 64 GB storage making it a great entry-level device.
The affordable price also includes a styles and the device weighs only 1.12 lbs.
Are you also in the market for an armbook? This search did not really yield the results we expected but we I wanted to write the article because I like the platform so much.
Did you like our picks? Let us know in the comments.