I'll admit that these luxury RV's straight out of the showroom aren't the most practical for plowing through a heard of the walking dead, it'd murder the paint work, but who the hell would want Dale's beat up old clunker, when in a post zombie apocalypse world you could just take one of these…
After all you've got to have a place where you can repopulate the earth with the ladies left living in some style and luxury.
(I'm going to assume you've watched the Walking Dead series- if not what he hell have you been doing to miss it. Go and watch it immediately after you've read through this post!)…
…Assuming you have.
Now if you've got the odd $1 – $3+ million lying around doing nothing right now you could just go and buy one, but if not just wait for the zombie apocalypse to hit and go grab one for free!
Here's what you do
Borrow Daryl's crossbow, head down to the nearest luxury RV dealership, off the salesmen with a few well placed head shots (but keep the sales women – obviously). Then comes the hard bit! Which one do you choose?
Well for the discerning post apocalyptic man with a keen eye for style here's the spec for each of these bad boys. Any one of these chick magnets will do just nicely.
1. eleMMent Palazzo Superior.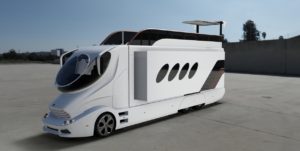 If you ever want to travel in class, then I would recommend the eleMMent Palazzo Superior. This baby features spacious and amenity-rich interiors that are complemented by its out worldly chassis design, and all eyes will be on you as you drive. This beautiful beast is equipped with a 600 HP, 6 cylinder in-line Volvo engine with automatic transmission. There is a fully-equipped kitchen, bathroom, master bedroom, SPA-Area, Wireless Command Center, Fireplace and Sky Lounge featuring a retractable rooftop. Traveling in this RV beats spending time in any luxurious hotel, just like an expensive cruise ship, but on land.
2. Foretravel iH-45 Motor Coach.
No one enjoys being pinned to one specific design, so the iH-45 allows you to customize your living space as you please upon purchase. For instance, there is no standard floor plan and you can choose to have it customized for you. It comes with an assortment of home appliances, electronics, lighting, audio-video equipment and interior furnishings, all designed to ensure you live comfortably throughout your expedition. What I find most incredible with the iH-45 RV is the fact that it is designed and built with a semi-monocoque chassis that distributes all vibrations through the floor, ensuring a smooth ride.
3. 2016 Monaco Dynasty.

I would recommend the 2016 Monaco Dynasty for anyone who wants to make a statement during their roadtrip or outdoor expedition. Its 600 HP powerful Cummins engine, coupled by the all-new Roadmaster chassis bring out the class in a powerful manner. Its interiors are pimped with plush furniture, plumbing, electrical and safety features within the living area, bedroom, galley, lavy and kitchen areas. Its exterior is also not left behind, with beautiful, sturdy, durable and ergonomically designed awnings, doors, windows and general body construction.
4. Mercedes-Benz Zetros 2733.
Are you a fan of off-road expeditions? The Mercedes-Benz Zetros 2733 will traverse the most unfriendly terrain and can endure the most extreme altitudes and weather conditions. Don't get confused by its exterior rugged military-like outlook; its interiors including the bedroom, sitting area, kitchen and bathroom, reflects top-not luxury with an AC system, 46-inch flat screen monitor, Bluetooth connectivity, comfy furniture and marble, aluminum, leather and wood finishes. Its roof has a carrier that can hold up to 100 kg; you can technically bring your heaviest equipment along. It even has a storage bay, big enough to accommodate your quad-bike.
5. Prevost H3-45 VIP.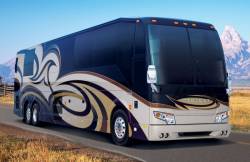 The Prevost H3-45 lets you enjoy a masculine design with its big size and manly build. It offers you some generous space with the tallest shell for maximum air circulation and extra storage space. Its large windows allow entry of more natural light, yet offering the best isolation from any exterior noise and unfavorable weather conditions. Both its interior and exterior parts are customizable with a variety of floor plan options to choose from and full paintability of the outer shell that's made of precision-molded fiber composite for a light yet strong and stable body.
Final thoughts on your RV of choice
They are all suitable for the job in hand, so why limit yourself to just one – take them all!
And to use some marketing parlance here, take one of each and "split test" to see which one works the best for you.
Now for some added security you might need to go a bit A-team on the body work and weld a snow plow on the front to prevent the dead from bouncing off the bodywork and ruining the beautiful paint job and maybe add a few titanium mesh grills to protect your tinted windows a bit, but so be it. Just fire up the MIG welder for an hour or two and you're good to go.
So who the hell said you need to suffer in a world ruled by zombies anyway? bollocks to that, I'd want a re-population passion palace!